At Textured Terrain, we are a company built on reputation, trust and quality. Our work includes new concrete construction, including decorative concrete work, and concrete repair as well as restoration work.
For years, our customers have trusted us for their residential concrete construction needs specializing in footings, poured concrete foundation walls, patios, sidewalks, garages, driveways and aprons.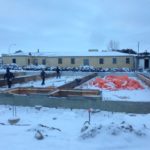 Recently, we have been specializing in large-scale commercial projects with workmanship that is unparalleled.
In 2013 we were awarded with a "Contractor of the Year Award" from one of Regina's most reputable home builders. This award recognized our commitment to punctuality, workmanship, versatility and ability to meet deadlines.
If you need a concrete specialist that offers exceptional service and expertise, call us today! We do concrete and we do it right!
Call us today for a free estimate: at 306-533-8251. At Textured Terrain, we do concrete and we do it right! texturedterrain.dev