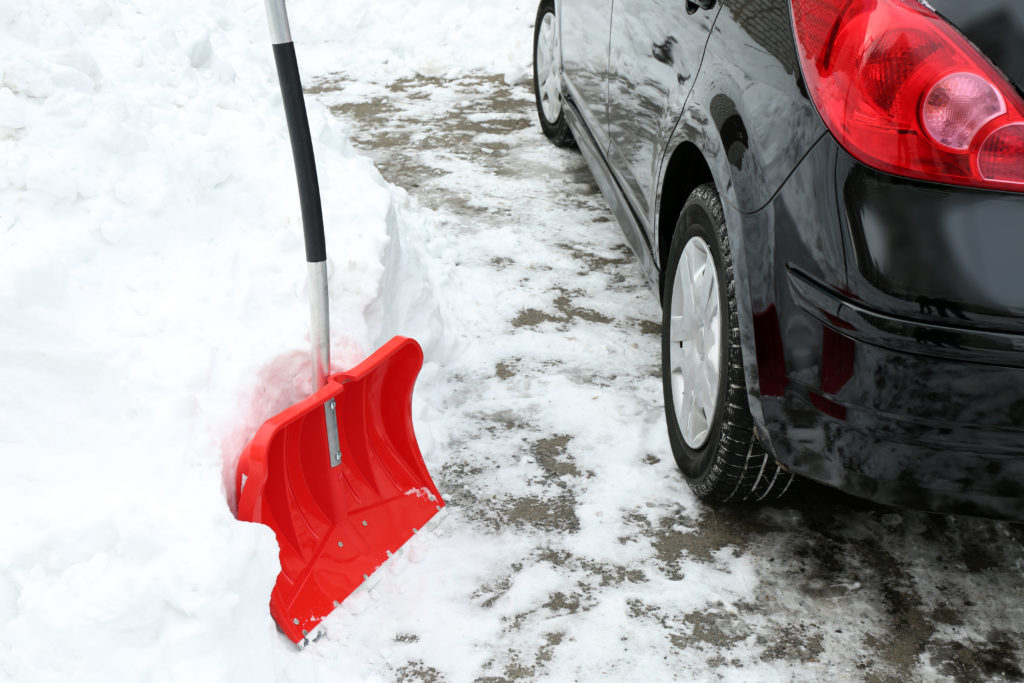 There's a few things to consider when keeping your driveway and walkways free from snow and ice this winter.
Shovelling. Scraping. Chipping. Snowblowing. It's a rite of passage for every Saskatchewan homeowner from November to (hopefully) February. And while it's not on anyone's list of favourite winter activities, there are things you can do to make snow removal a little easier, and ensure you're not damaging your driveway.
The right tool for the job
Winters in Saskatchewan can throw more than one thing at you, so you should have more than one snow removal tool to deal with it. If you're shovelling, have a smaller, ergonomic shovel to save your back when scooping and throwing snow, a larger snow pushing shovel to plow through and move deep snow, and pointed shovel to chip through ice and packed snow. And be sure to move small, manageable loads of snow and take frequent breaks if there is a lot of snow– the combination of physical exertion and cold weather can cause cardiac arrest or heart attacks, especially in middle-aged people, those with a more sedentary lifestyle or anyone who is at high risk for a heart attack.
If you get a snowblower, get the right one for your situation. You don't need a heavy-duty beast of a machine if you have a small driveway, and a small, underpowered machine will leave you frustrated if you have a long, winding driveway.
Say no to cracks
Cracks in driveways that occur during the winter usually happen as snow melts into water, seeps into the concrete or asphalt, then refreezes and expands. Keeping your driveway and walkways as clear as possible will help this, as well as shovelling snow to a place that angles away from your property, so any melting snow does not run back onto the area you cleared.
The de-icer you choose can also cause cracks. Rock salt, while being the cheapest de-icing option, can seep into cracks or pores in your concrete and actually attract water, causing cracks or making existing cracks worse. And because it only works at a higher temperature it can cause more frequent thaw and freeze cycles, which can cause more cracks. Calcium chloride is a much better option as it has a lower freezing point and will cause less damage. However chloride can be toxic to pets, so be cautious or be sure to buy a clearly marked "pet-friendly" alternative. Cutting your de-icer with sand will also improve grip on ice and make you de-icer last longer.
If you are experiencing cracks or driveway damage we can help – the team at Textured Terrains are experts at driveway removal and replacement. Check out our driveways page to see some of our recent projects and contact us if you have any questions or want to discuss your project.
Happy shovelling!